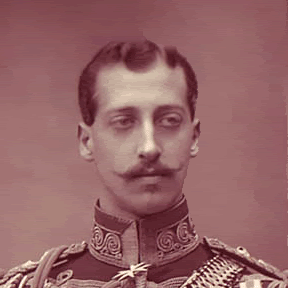 What to name him. What to name him. Oh, I know: Albert!
Albert Victor was born to Albert Edward (himself the son of QV's beloved Albert Albert. I mean Francis Albert) 8 January, 1864. Two months premature. His mother was, of course, the Princess of Wales, later Queen Alexandra. Wikipedia uses language that I think was designed to try to be charitable to the lad:
"Albert Victor was known to his family as "Eddy"... Albert Victor's intellect, sexuality and sanity have been the subject of much speculation. Rumours linked him with a scandal involving a homosexual brothel, though there is no firm evidence that he ever went there or was even homosexual. Some authors have argued that he was the serial killer known as Jack the Ripper. Contemporary documents indicate that Albert Victor could not have been in London at the time of the murders, and the claim is widely dismissed."
Really? "No firm evidence" - what an unfortunate choice of words when speaking of a homosexual brothel.
This young man has been one of my very favorite royal characters for a very long time, so perhaps we can "delve a little deeper" just to satisfy my own desire to further sensationalize this ever-down-spiraling blog.
---------